Articles written for the GLP list the source as
Genetic Literacy Project
. All other articles were written for the sources noted with excerpts provided by the GLP.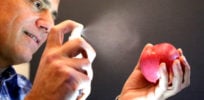 Food contamination outbreaks could be better tracked with a new technology: spraying DNA barcodes directly onto food. It could also ...
Mixed reviews on Abbott's GMO removal decision. Scientists blast it for being hypocritical and anti-science while some anti-GMO groups are ...