Articles written for the GLP list the source as
Genetic Literacy Project
. All other articles were written for the sources noted with excerpts provided by the GLP.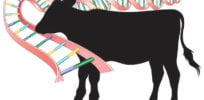 For Raluca Mateescu, the battle against climate change involves an unusual task: breeding a better steak. A researcher at the ...
A disease that kills millions of pigs a year may soon meet its match — if two federal agencies can ...