Articles written for the GLP list the source as
Genetic Literacy Project
. All other articles were written for the sources noted with excerpts provided by the GLP.
Increasing human populations demand more productive agriculture, which in turn relies on crop plants adjusted for high-yield systems. [G]enetic tuning ...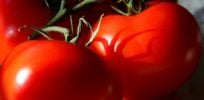 Unexpected interactions between mutations can be a thorn in the side for plant breeders, especially when they're trying to promote ...