Oak Ridge National Laboratory
Articles written for the GLP list the source as
Genetic Literacy Project
. All other articles were written for the sources noted with excerpts provided by the GLP.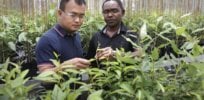 For decades, biologists have believed a key enzyme in plants had one function—produce amino acids, which are vital to plant ...
Scientists at the Department of Energy's Oak Ridge National Laboratory have identified a common set of genes that enable different ...