There are many countries that some Europeans will never visit, yet they eat food from these places every day. –For ...
A Greenpeace-endorsed lawsuit to prevent Kenya's government from importing maize to ease predicted food shortages has been rendered moot due ...
How European irony became an African tragedy ...
Plant scientist Monica Schmidt: By modifying only one gene, a new variety of soybeans has higher levels of beta-carotene than ...
Genetically engineered peanuts that are immune to aflatoxin contamination, which is associated with an increased risk of liver cancer, would ...
Plant pathologist Dilip Shah: GMO peanuts could help eliminate a potent threat to human health in the developing world ...
Puzzle solvers at the website Fold.it, a crowdsourcing project, are being asked to look for new and efficient ways to ...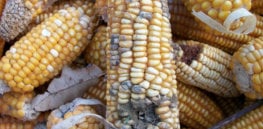 Aflatoxins are responsible for hundreds of millions of dollars in crop losses annually. Farmers have struggled to control the troublesome ...
When Gates Foundation reviewers rejected a researcher's bid for new funding, one of the reasons cited was a concern over ...
The creation of GM corn that neutralizes a cancer-causing toxin is a game-changer for human health. The method could be ...