Mobile technology has transformed the way we live — how we read, work, communicate, shop and date. But we already ...
Our supposedly shrinking attention spans are a hot topic these days—as you may have seen on TV or heard on a ...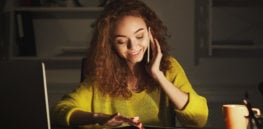 Last week the National Toxicology Program (NTP) issued an update on the results of the largest animal experiment to assess ...
While it has been theorized that radiation from cellphone usage has the ability to cause cancer, there is no evidence ...