Can we encourage a resurgence in butterfly-friendly milkweed populations without making farming even more challenging? ...
To get a better understanding of the monarch butterfly's future, Jack Boyle built a time machine. Boyle, a Mellon Postdoctoral ...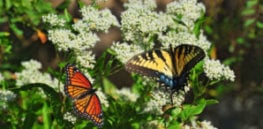 Not all plants are wholesome for foraging animals. Certain species of milkweed, for example, that are highly valued as host ...
Dicamba drifts. Apparently, more than expected by a lot of farmers, agriculture officials and manufacturers. But does that mean, as ...
According to activists, the decline of the Monarch butterfly population is primarily due to the over application of the popular ...
The anti-GMO movement blames GMOs on the decline of the monarch butterfly, but the problem is more complicated--the result of ...