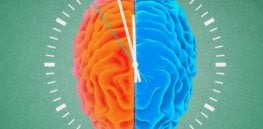 It's unclear how the brain keeps track of the timing of events within a memory. One theory posits that, as ...
Ever wonder what happens in your brain to make the switch between down-and-out tired, and borderline over-caffeinated? As it turns ...
Our recollection of events is usually not like a replay of digital video from a security camera—a passive observation that ...
With just their input cables, human neurons can perform difficult logic calculations previously only seen in entire neural networks. To ...
It's not common that researchers discover what could be an entirely new part of the human body. But a team ...
If the memory center of the human brain can grow new cells, it might help people recover from depression and ...
Figuring out how autism starts is complicated. … [A] large international team obtained skin cells from eight autistic people and ...
If you stumbled across a radio or a computer and had no idea how it worked, you would likely first ...
Reports of human and reptile brain differences seem greatly exaggerated, according to recent neuroscience ...
Neuroscientists have tried for decades to observe the swift electrical signals that are a major component of the brain's language ...
The brain has a temporary way to keep track of memories ...
Because ALS primarily affects a person's motor neurons, it has been assumed that the disease spares a person's mental faculties ...
[R]esearchers have coaxed nerve cells to span the divide of a complete spinal cord injury. Their findings, described August 29 in Nature, ...
Although memories seem ethereal, scientists believe that they may be stored in the connections between neurons called synapses. In theory, ...
A group of 21 neuroscientists are joining forces in an effort to better understand how different parts of the brain ...