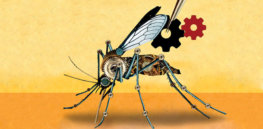 Consumers are less wary of biotechnology when they know how it's being deployed ...
With a new initiative, NGOs in Germany are seeking authority over the approval of biotechnology products such as pharmaceuticals and ...
The Austrian research portal "Addendum" released a bombshell video regarding the facts, figures, and positions regarding GMO foods. In this ...
A former agricultural reporter at Reuters, Gillam now presents herself as "the Rachel Carson of the GMO debate." Belgian-based risk ...
Opposition to the world's first GMO animal approved for human consumption was fueled by a variety of sources --from quacks ...
Public tax money in Europe is being given with limited or no accountability to organizations actively working to undermine consensus ...
Environmental NGOs have a harder time influencing the evidence-based US regulatory system, so they're taking the fight to Europe — ...
Nothing cuts deeper than feeling betrayed. That's the story of a former organic farmer who now believes the industry who ...