Early behavioral signs predict seizures in autistic children, according to a new study. Previous work has shown that 5 to ...
Children and teens with epilepsy who were treated with pharmaceutical cannabidiol (CBD) had much better seizure control than those who were treated ...
Kevin, who has autism and has had seizures since he was 8 years old, lies uncharacteristically still in the center ...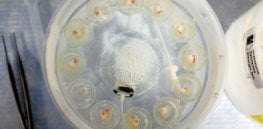 Half an hour earlier, this piece of neural tissue was tucked inside a 41-year-old woman's head, on her left side, ...
It's no surprise to neurologists that some people experience convulsive seizures in the later stages of [Alzheimer's] disease.  … But ...
People who suffer severe epileptic seizures may one day be able to control or even prevent them with an electronic ...