[Researchers planned] to carry out an experimental transplant surgery unprecedented in the annals of medicine: replacing the dysfunctional brain cells ...
Among the more interesting applications of fast-moving 3D printing technology is its potential to help solve our critical organ transplant ...
To help rats adopt transplanted limbs as their own, researchers have harnessed a ruse that cancer cells use to hide ...
On March 7, 2016, doctors at the Cleveland Clinic introduced the nation to Lindsey McFarland, the first person to undergo a ...
A team of doctors in Brazil have announced a medical first that could someday help countless women unable to have ...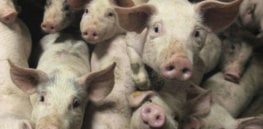 The pork industry is watching the potentially lucrative market that could be driven by a surge in demand for pigs ...