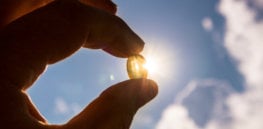 According to [a] study from Massachusetts General Hospital released [August 5], vitamin D, also known as the sunshine supplement, does ...
For the past two months, a sizable chunk of the world's population has been shuttered inside their homes, only stepping ...
Researchers from Trinity College Dublin are calling on the government in Ireland to change recommendations for vitamin D supplements. A ...
For the most part, supplements are a waste of money at best and harmful at worst. But could vitamin D ...
One of the impressive things about biochemistry and cell biology is how it can produce physical correlates to things that ...