Articles written for the GLP list the source as
Genetic Literacy Project
. All other articles were written for the sources noted with excerpts provided by the GLP.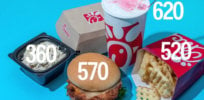 As of May last year, all American restaurant chains with 20 or more outlets have been legally obliged to provide calorie ...
Nutrition studies on Alzheimer's conclude that diet might affect brain health. Beware of media spins that claim more ...