Articles written for the GLP list the source as
Genetic Literacy Project
. All other articles were written for the sources noted with excerpts provided by the GLP.
As companies hurry to test potential vaccines, the National Institute of Health (NIH) is hoping new bio-engineering techniques to help ...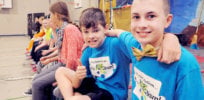 To help spread awareness — and cut through the falsehoods, half-truths, and misinformation — here are seven things everyone should ...