Articles written for the GLP list the source as
Genetic Literacy Project
. All other articles were written for the sources noted with excerpts provided by the GLP.
A group of House Democrats, who called the proposed federal GMO labeling standards 'weak' and 'confusing,' are being urged not ...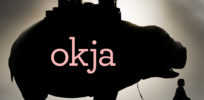 The film about a fictitious evil corporation called "Mirando" that genetically engineers dangerous "superpigs" for food encapsulates all of the ...