Articles written for the GLP list the source as
Genetic Literacy Project
. All other articles were written for the sources noted with excerpts provided by the GLP.
While New Zealand has not yet approved the release of genetically modified crops, its agricultural research agency's principle scientist has ...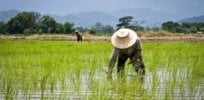 Thailand has drafted a new set of regulations for comments, targeting food and food products containing or consisting of genetically ...