Articles written for the GLP list the source as
Genetic Literacy Project
. All other articles were written for the sources noted with excerpts provided by the GLP.
Sampling in Germany, Seibold et al. present an interesting and impressive study of arthropods in grassland vegetation and those in ...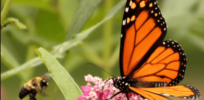 Global rates of insect decline will be very hard to measure. Conclusions regarding drivers and rates of declines can be ...