Articles written for the GLP list the source as
Genetic Literacy Project
. All other articles were written for the sources noted with excerpts provided by the GLP.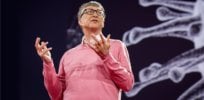 An early Cassandra who warned of our lack of preparedness for a global pandemic, [Bill Gates] became one of the most credible ...
Tim Abbott, a PhD candidate at Stanford University's bioengineering department, checked the results of an experiment that he was running ...