Articles written for the GLP list the source as
Genetic Literacy Project
. All other articles were written for the sources noted with excerpts provided by the GLP.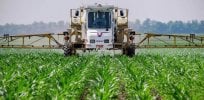 The public has found its witch to burn. Glyphosate — or, colloquially, Roundup — is shackled to the stake in ...
Kathryn Edwards always thought that if she were ever diagnosed with breast cancer, "I'm taking them both." So when her ...