We are, it seems, still a long way off from a cure, in any ordinary sense of the term. Yet ...
The vast majority of cancer deaths in the US come about not because of a lack of treatment, but because ...
The challenge of chemotherapy is to kill off the tumor cells without doing too much harm to healthy ones. The ...
As of 2020, there are now targeted therapy drugs for 30 kinds of cancer. As part of this whirlwind of innovation, ...
Precision medicine, the concept of giving the right treatment to the right patient at the right time, is flourishing in ...
Tumors resist chemotherapy with help from a surprising source: nearby normal cells. Researchers are developing workarounds ...
A class of drugs is emerging that can attack cancer cells in the body without damaging surrounding healthy ones. They ...
Imagine having cancer and being told that most of your treatment will happen in your home instead of a high-tech ...
Imagine if you could turn aggressive cancer cells into harmless fat. Scientists in Switzerland say they've done just that, in ...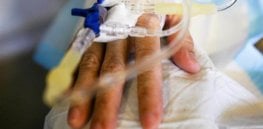 Ambitious efforts to prevent or beat cancer are important, but we can't overlook or undervalue the incremental breakthroughs that could ...
Cancer patients who use alternative therapies may be more likely to shun conventional treatments and risk their chances of survival, ...
Conflicting screening recommendations are sure to confuse women — which raises the importance of factoring in genetic factors in risk ...