Alhough coca crop size fell 9% in 2019 to the lowest level in six years, the capacity to produce cocaine ...
Pedro Arenas is afraid that they'll take flight again. "I expect it could be within the next months," he says ...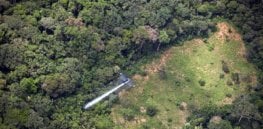 Colombia will have to restart aerial spraying of the herbicide glyphosate in order to destroy crops of coca, the chief ...
The Colombian government faces 273 lawsuits stemming from damages to crops, land and water caused by the spraying the herbicide ...
There are nicotine patches to help quit smoking, and then there's this: patches of actual skin, genetically engineered to produce ...