A surgeon has implanted electrodes in the brain of a patient suffering from severe opioid use disorder, hoping to cure ...
Deep brain stimulation can durably improve depression symptoms in people who don't respond well to other treatments, according to a ...
Many clinical trials never actually go to completion, however the preliminary results may be promising. What can we get out ...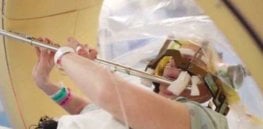 A professional musician suffering from career-affecting tremors underwent deep brain stimulation. This procedure can help Parkinson's patients, epileptics, and those ...