With fearmongering headlines and the general misunderstanding of what goes into our food (hello, image of a syringe in a ...
Wouldn't that be great if we had an abundance of different types of food at our fingertips? Unfortunately .... The ...
Years ago, before I fell in love with a farmer and became one myself, I was a big-city girl who ...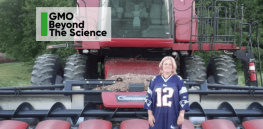 Jennie Schmidt, Third-Generation Maryland Farmer, Registered Dietitian, Member of the Global Farmer Network | August 7, 2018 Highlights: Combining a ...
Farmers like to say that you can't count on a harvest until it actually comes in — but I'm ready ...
Environmental scientist Vaishnavi Tripuraneni: Marriage loans and health care—not seed costs—are the main drivers of debt for smallholder farmers in ...
An anti-GMO, pro-organic mom became a staunch defender of modern agriculture following a social media encounter that prompted her to ...