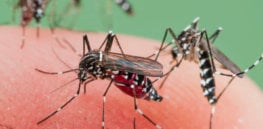 CRISPR-Cas9 gene editing quickly decimated two caged populations of malaria-bearing mosquitoes (Anopheles gambiae) in a recent study, introducing a new ...
The fate of society rests in part on how humans navigate their complicated relationship with insects – trying to save ...
Monitoring and killing mosquitoes is a key public health task used to curb the spread of deadly disease. In recent ...
Scientists have discovered a microbe that completely protects mosquitoes from being infected with malaria. The team in Kenya and the ...
A plan to test genetically modified mosquitoes in the Florida Keys has received approval from the federal government. For more ...
Locked in a secure lab near Melbourne is the newest addition in the fight against dengue: genetically engineered mosquitoes that ...
Gene drives have yet to be tested outside the lab, and even the most developed project to date — the ...
Mosquitoes infected with Wolbachia bacteria and released into the wild are associated with a sharp decrease in dengue fever infections in humans, ...
In Burkina Faso, the government is considering the use of genetically modified mosquitoes to eradicate malaria. In Nantucket, Mass., officials ...