The expanding use of nitrogen fertilizers in agriculture is pushing nitrous oxide emissions to levels that jeopardize climate goals and ...
Everywhere Randy Souder looked, he saw mud. On his soggy fields. In the mechanized crannies of his planter. Along the ...
In the early 20th century, Fritz Haber and Carl Bosch revolutionized agriculture. The two German chemists developed a technique, now ...
Farmers need nitrogen fertilizer to maximize crop yields. Without it, our food supply would be nowhere near as abundant as ...
Researchers from around the globe gathered in Saskatoon [in August], focused on making wheat more efficient and sustainable using the ...
The root microbiota is critical for agricultural yield, with growth-promoting bacteria able to solubilize phosphate, produce plant growth hormones, antagonize ...
During the past 70 years, hybrid corn varieties have increased both yield and nitrogen use efficiency at nearly the same ...
Bet you never thought fertilizer was magical but that changes today! On this episode of Biotech Facts and Fallacies, plant ...
"I should say that I'm probably the doom and gloom story," said the World Economic Forum's Nishan Degnarain to laughter, ...
Genetic engineering, the consequences of thawing permafrost soils and the fragmentation of animal and human habitats through gigantic construction projects ...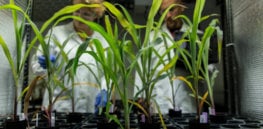 It was January 15, 1881, and the U.S. envoy to Peru had to duck for cover .... Chile had invaded Peru ...
Plants are surrounded by nitrogen, but it's unusable as found in the atmosphere. Scientists may be able to change that ...
Rice, wheat and other grains that have been bred to produce larger harvests using less land have been critical to ...
In the 1980s, Howard-Yana Shapiro, now chief agricultural officer at Mars, Incorporated, was looking for new kinds of corn. He ...
Across the Corn Belt this summer, Pivot Bio and farmers in the company's Intent to Pivot program are beta testing the first sustainable nitrogen ...