Tragically, the United States, unable to match other countries' response, has tallied the most cases and deaths in the world ...
Boris Johnson has hinted at allowing genetically modified food to be imported from the US after Brexit as he called ...
President Trump and President Xi Jinping of China agreed on [June 29] to resume trade talks after a seven-week breakdown, ...
China's lengthy approval process for genetically modified crops remains a sticking point in talks to end the trade war between ...
China may agree to buy more U.S. agriculture commodities and lift onerous trade barriers in the ongoing talks, but unless ...
[The first week of March] the United States published our objectives for a future trade deal with the UK. We are ...
US officials on [February 21] ratcheted up pressure on the European Union to address longstanding agricultural issues between the two ...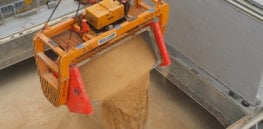 America's farmers and ranchers are eager for a U.S. free trade agreement with the U.K., but only if the British ...
With a new Congress comes new lawmakers and new committee rosters, including new chairmen and ranking members. The Senate Finance ...
When faced with something new, Russian lawmakers have generally found it easier to ban it than to debate it....A case ...
Editor's note: The following is a satirical letter written by Reinhard Szibor, professor emeritus of human genetics and forensic medicine at the ...
The one-size-fits-all approach, that imposes the patent system on the agricultural sector irrespective of the consequences, may not be in ...