The weed that represents the biggest threat to Midwestern corn and soybean production, waterhemp, has outsmarted almost every kind of ...
Nikolai Vavilov's story has stuck with Longjiang Fan ever since he learned about the Soviet plant biologist during his undergraduate ...
A team of scientists from Rothamsted Research have successfully adapted genetic techniques developed for crop improvement to be used in ...
[March 30], the U.S. Environmental Protection Agency (EPA) announced the registration of the use of isoxaflutole on genetically engineered soybeans, ...
Concern about glyphosate - the world's most widely-used weedkiller - has been growing since 2015, when the World Health Organization's ...
Remote sensing provides an alternative to ground-based manual scouting for weeds in agriculture fields. And, while many advances have been ...
Weeds are thieves. They steal nutrients, sunlight and water from our food crops. In the case of sugarcane, yield refers ...
Vavilovian mimicry allowed barnyard grass to become the scourge of rice cultivation ...
Weeds are the bane of a farmer's existence—the "most important of all crop pests," as one scientist put it. They ...
A new paper published in the journal Agbioforum points to higher weed control costs, less effective weed control, more difficult access ...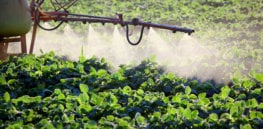 Purdue University researchers have developed a compound effective for controlling weeds that is also safe for people and the environment. They ...
If there is one thorn in the side of Missouri farmer Tommy Riley, it's pigweed. ...Riley told members of the ...
Understanding how weeds evolve to become invasive and herbicide-resistant at the genetic level can help scientists design better weed controls ...
Many critics claim GMOs increase the practice of monoculture cropping, but is this accurate? Does intensive farming damage our land ...