Articles written for the GLP list the source as
Genetic Literacy Project
. All other articles were written for the sources noted with excerpts provided by the GLP.
After years of targeting health-conscious beer drinkers with Michelob Ultra, Anheuser-Busch InBev is going after an even choosier consumer: the organic shopper. The ...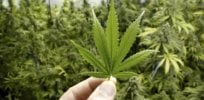 The fledgling cannabis industry is full of wide-eyed claims about what pot can do. Outperform your favorite energy drink? Maybe. Cure ...