Articles written for the GLP list the source as
Genetic Literacy Project
. All other articles were written for the sources noted with excerpts provided by the GLP.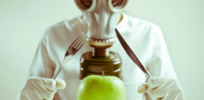 A recent CNN article about the FDA oversight of chemicals in foods is puzzling.  Author Sandee LaMotte regurgitates a ludicrous demand by ...
Pick just about any newspaper or journal and during the course of a year, one or more articles will be ...