"Science must begin with myths, and with the criticism of myths." –Karl Popper
After two and a half years and reaching 70,000 organic likes, We Love GMOs and Vaccines has been removed from Facebook. Here is what you get when you go to our page now:
I am a middle school teacher in Annapolis, MD, who has become concerned about the turn against science on critically important issues, such as vaccines and agricultural biotechnology. The Facebook site grew into something I never imagined. I found myself being invited to happy hours with University of Florida plant scientist Kevin Folta, to the United Nations to meet with the Cornell Alliance for Science Fellows and even to a tour of Monsanto in St. Louis. More importantly I made personal friends with people all over the world, both online and off.
[To read how science communicators are reacting to this latest example of anti-GMO and anti-vaccine censorship, visit the GLP story: Science communicators condemn Facebook's censorship of pro-science "We Love GMOs and Vaccines"]
NOTE: In an unprecedented move, Facebook has now restored the site, accessible here. Usually Facebook takes one month or more before even considering whether to restore a censored site.
The time spent with the page was not without some stress. My criticism of the anti-biotechnology movement has caused some absolutely terrible people to try and silence me. I almost threw in the towel when people began tweeting and emailing my school system about me. These people view the criticism often used on my Facebook page as "harassment" of their leaders and followers–and they have attacked the site and me viciously. For example, Ena Valikov, a veterinarian, is known for trolling science focused sites, personally attacking scientists and science communicators who do not agree with her extremist views on GMOs and other issues.
GMWatch, a virulently anti-GMO group (profiled here by the Genetic Literacy Project, for which I sometimes contribute), launched a particularly vicious campaign against me and the site last December after I reported on the antics of Nassim Taleb, black swan economist turned anti-GMO scare preacher.
Encouragement from my local community helped me keep my cool. This small group of online bullies certainly made me reflect on things, but definitely not the way those attacking me probably intended. You see for them to spend so much time and effort on this harassment must have meant I was effective. Otherwise they would have just ignored me.
But it would not be until several weeks ago when I felt that my work and that of a small team of volunteers was really being threatened. I was alerted to a post that appeared in a dark pit of Facebook, Vaccine Resistance Movement, which is the go-to source for vaccine deniers convinced of an international corporate and government conspiracy to poison children. Dr. Joseph Mercola, who runs one of the most popular websites peddling 'natural medicine–he is described by the Encyclopedia of American Loons as "a frighteningly popular alternative medicine guru and (more or less) cult leader- posted a request to this group of nearly 25,000 activists to report our Facebook page for "investigation."
Mercola seemed to take issue with an image I posted of Dr. Jeff Bradstreet, a Christian preacher turned alternative medicine guru best known for his promotion of homeopathy and other forms of medical quackery. He promoted misinformation on how to deal with autism, leading to an untold number of children being harmed. Bradstreet's body was found dead under mysterious circumstances in 2015, which led to an exchange on VRM.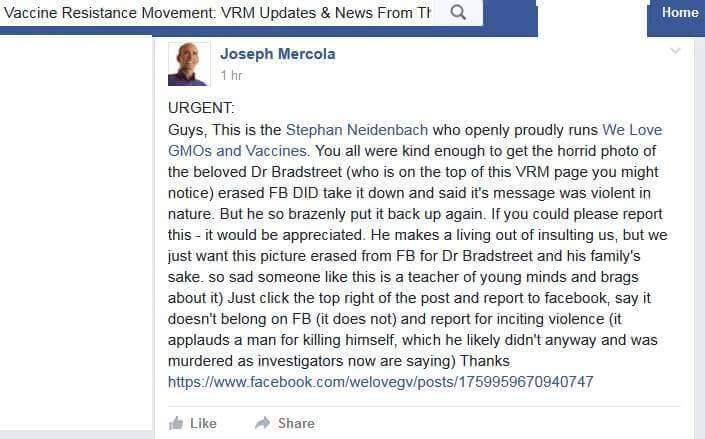 Since making that post I have been having a very constructive dialog with Dr. Mercola's girlfriend Erin Elizabeth of Health Nut News. We have all cooled off, but unfortunately some people have not. Anti-vaccine hotheads began a coordinated effort to destroy what we have built. Facebook has adopted the precautionary principle, and the anti-science mob knows from experience how to manipulate the system.
Dr. David Gorski, a surgical oncologist and one of the country's most respected science communicators as founder of the Science-Based Medicine blog, has previously written on how rabid anti-science activists have learned how to manipulate Facebook's algorithms to censor science advocates: "when members of the Stop the Australian Vaccination Network were targeted by what was then called the Australian Vaccination Network for complaints against them on Facebook. Facebook, through its automated reporting algorithms, would then issue 12-hour, 24-hour, or even longer bans against pro-vaccine advocates."
The page was unpublished four times over a three week period before finally being deleted. A Facebook representative on the phone explained that when enough people report a page or a post in a short period of time, Facebook automatically removes it. This technique isn't just being used by the anti-science movement, but also by oppressive regimes around the world to stifle dissent. The Verge reported on how these tactics are employed by the Vietnamese government to silence journalists and activists.
It is utter insanity that Facebook allows these gangs of thugs to act as judge, jury and "executioner". I understand that Facebook wants to keep a reputation for a "safe" environment, but allowing keyboard renegades free reign stifles freedom of expression, which is what has made the Internet so great.
Contrary to Mercola's claim that I "make a living out of insulting" anti-vaccers, We Love GMOs and Vaccines is just a hobby. I have so far not received a dime from anyone for any of my writing or memes. As a teacher it was fun to be able to teach without having to worry about what parents or a principal thought of me. If Facebook does not restore it, maybe I will just focus on the Americans For Science podcast and writing for other outlets.
But this isn't just about me. Our audience of more than 70,000 was an essential part of an online network of pages sharing information with each other. Facebook posts rely on engagement. Without larger pages sharing articles and memes, most people will never see most of what is posted. Shutting down my page is like having a bulb go out on a traditional string of Christmas lights, where all the pages that follow mine go in the dark as well.
And that is what this is really about. The anti-vaccers and anti-GMOers and other groups who not only defy science but attack those who promote independent thinking are not satisfied with just trying to block on the pages of science communicators, they are intent on preventing everyone else–you–from seeing independent information as well. In history class I teach of great wars fought against tyrants who do just that.
Stephan Neidenbach is a middle school teacher in living in Annapolis,
MD. He holds a BS in business administration from Salisbury University and a MS in Instructional Technology from University of Maryland University College. He started and runs the Facebook group We Love GMOs and Vaccines, follow him on twitter @welovegv.