Biotechnology can be used to develop stress-tolerant and more nutritious crop varieties to protect natural resources and human health. Each biotech crop is evaluated on a case-by-case basis, while approved commercial products in the market have been subjected to rigorous scientific scrutiny. Biotech crops should be considered as a tool for improving crop yields [and obtaining] larger income for food-insecure farmers.
…
The International Service for the Acquisition of Agri-biotech Applications strongly supports the above and the scientific truths underpinning them with the publication of Global Status of Commercialized Biotech/GM Crops.
…
Biotech crops increased ~113-fold from 1996 with accumulated biotech area at 2.5 billion hectares; thus, biotechnology is the fastest adopted crop technology in the world.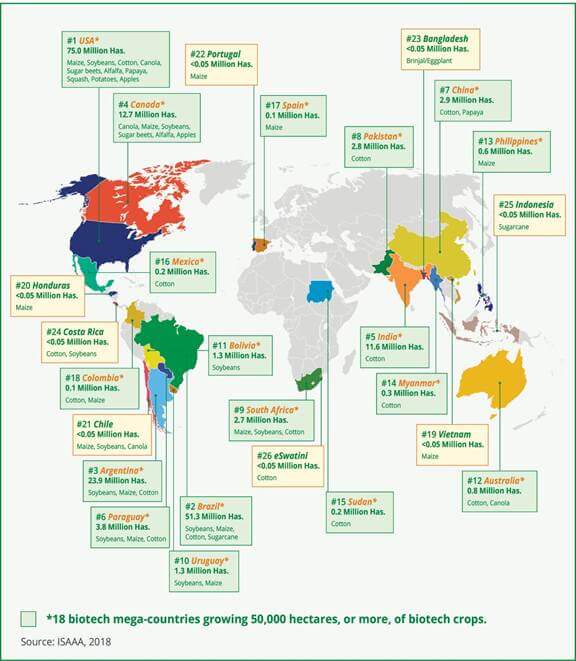 Global area of biotech crops has increased ~113-fold from 1.7 million hectares in 1996 to 191.7 million hectares in 2018 – this makes biotech crops the fastest adopted crop technology in recent times. An accumulated 2.5 billion hectares or 6.3 billion acres were achieved in 23 years (1996-2018) of biotech crop commercialization.
…
High adoption of biotech crops continued in 2018 with 191.7 million hectares worldwide.
On the 23rd year of commercialization of biotech/GM crops in 2018, 26 countries grew 191.7 million hectares of biotech crops …. Except for the 2015 adoption, this is the 22nd series of increases every single year; and notably 12 of the 18 years with double-digit growth rates.
Read full, original article: Biotech Crops Continue to Help Meet the Challenges of Increased Population and Climate Change