Articles written for the GLP list the source as
Genetic Literacy Project
. All other articles were written for the sources noted with excerpts provided by the GLP.
An expert on Genetically Modified Organisms (GMOs) from India has told a UN conference on biodiversity that GMO cotton growing ...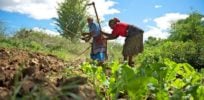 President Macky Sall of Senegal has thrown his weight behind the adoption of agricultural biotechnology in the country. .... President ...