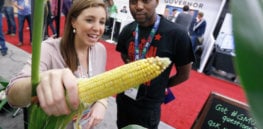 For the past few years, I've been fortunate to supervise a number of students working on their undergraduate thesis in ...
One of the consistent benefits of GM crop adoption has been a higher farm and household income. In an assessment ...
Is there such a thing as a perfect genome? Kat Arney explores the myths and misconceptions about genetics, genomics and ...
In a bid to popularize technology in local schools, the Uganda Biosciences Information Center (UBIC) has begun training teachers and ...
A person's socioeconomic status plays a role in the type of cancer they might get, the Cancer Registry researchers found ...
Many Americans will face some form of significant medical decision-making during their lifetimes, either for themselves or for their loved ...
As people become more conscious about the food they put on the table, farmers are having to deal with a ...
Genetically modified (GM) foods are often met with harsh public opposition, though little research has attempted to understand why this ...
The power of citizen science to contribute to both science and society is gaining increased recognition, particularly in physics and ...
Educational paths are extremely varied, almost as unique as people themselves. They're influenced by a complex slew of factors, and ...
What's more important, genes or environment? …The advent of genomics has given us a new perspective on the role of ...
The largest-ever genetic study on human cognition has found more than 1,000 links between people's genes and how far they ...
Scientists say the NY PTA has been hijacked by anti-GMO activists who want to impose their beliefs on the food ...