As autumn settles in and the holidays loom, it's worth pausing to ponder what we've learned about COVID-19 transmission over ...
[G]etting to herd immunity without a vaccine isn't as simple as the idea itself. A number of variables can affect ...
It's easy to look around right now and conclude that popular public opinion has turned against scientists. Twitter hashtags have ...
You could be forgiven for wondering how a disease as fast-moving and deadly as COVID-19 could just appear naturally, out ...
The first sign that viral genomics might transform epidemiology came in the wake of the 2013-16 Ebola epidemic in West ...
In the past two decades, the world battled Ebola, SARS and more than one major flu outbreak. Those left tragedies ...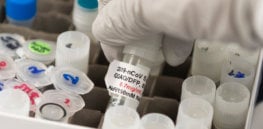 A vaccine for COVID-19 has entered Phase 1 of clinical trials in Seattle. How was it made? And how likely ...
[C]an the public control science that leaves us with permanent and unenviable consequences? Recent news suggests that the answer is ...
When New York University psychologist Jonathan Haidt asked about a thousand attendees at the annual meeting of the Society for ...
[D]oes a chimpanzee deserve more rights than, say, a pigeon? The logic that leads to "yes" is clear enough, but ...