As the nation emerges in fits and starts from the lockdowns spurred by the first wave of COVID-19 illnesses, we're ...
Globally, an estimated 1.9 billion adults and 380 million children are overweight or obese. According to the World Health Organization, ...
As many as 50 percent of heart attacks strike without any warning signs and in individuals with no history of heart disease. When ...
[In October 2019], the Annals of Internal Medicine published a controversial report that encouraged people not to worry about the ...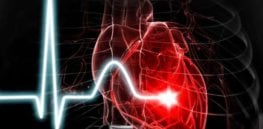 The reason our species finds itself in the ever-constricting clutches of atherosclerosis — the insidious buildup of cholesterol-filled plaques in ...
There are lots of things you can do to keep your heart healthy and hopefully live longer. But a new ...
You know your cholesterol, your blood pressure ... your heart gene score? Researchers say a new way of analyzing genetic ...
New evidence published [July 18] shows there is little or no effect of omega 3 supplements on our risk of ...
An evolutionary biologist called IVF an 'evolutionary experiment' and alleges IVF kids will have more health problem. Evidence for these ...
Do microbes in your gut cause pathologies elsewhere in the body like the heart? ...