With the taboo on human gene editing in the process of being shattered, children whose genomes have been modified before ...
Sebastian Cocioba, a 29-year-old college dropout and self-styled "plant hacker," has lived there with his parents for the past decade ...
Chinese athletes aiming to represent their country in the 2022 Winter Olympics will undergo genetic testing as part of the ...
Erik Lief and Chuck Dinerstein have each weighed in with companion pieces about a highly controversial rule by the International Association of ...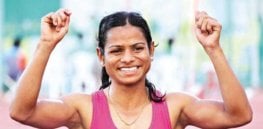 The context surrounding the study of the impact of testosterone on elite athletes is essential in understanding its underlying hypothesis ...
The start of the Winter Olympics in Pyeongchang has once again brought questions of unethical athletic performance-enhancement, or doping, to ...
The era of the über-athlete may be nearer than most people think, and it will spark fierce ethical debates. The ...