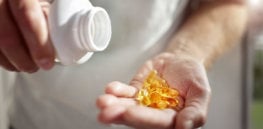 [T]o date the majority of studies evaluating omega-3s for averting or curtailing cognitive decline in human participants have failed to ...
In January 2020, Yield10 submitted an "Am I Regulated?" letter to the BRS, requesting confirmation of the regulatory status for ...
A newly emerging omega-3 canola oil is set to be available in the market by the second quarter of 2020 ...
Omega-3 fatty acids are critical to human health. Among their many benefits, these oils can help preserve eye and brain ...
One of the arguments that has been advanced to promote genetically engineered crops is that .... [c]rops could be engineered ...
Research .... has shown that key omega-3 fatty acids within GM plant oils are taken up and processed by the ...
Something is amiss in the huge barley fields of Montana. Mini-planters punctuate a tiny canola patch an hours' drive from ...
New evidence published [July 18] shows there is little or no effect of omega 3 supplements on our risk of ...
The distant relative of rapeseed could solve one of the problems faced by fish farms -- growing fish with the ...
New research suggests there could be a link between certain disorders, including Alzheimer's disease, and the brain's inability to clear ...
Omega 7 fatty acids are suddenly the rage in health circles. They are found in macadamia nuts, certain meats and ...