Using skin cells from human volunteers, researchers at the University of Pittsburgh School of Medicine have created fully functional mini ...
Scientists in China created piglets whose organs contained some monkey cells. The piglets all died within a week, illustrating the challenges ...
It's what's inside this animal that matters. Her body has been made a little less pig-like, with four genetic modifications ...
In 2017, Harvard University geneticist George Church predicted that gene-edited pig organs would be transplanted into people within two years—maybe ...
Experiments show pig-human chimeras might be able to farm human organs for transplantation and disease research. But would it be ...
Modern transplant technology is already pretty miraculous. Doctors can transfer anything from faces to hands to genitals between patients, keep ...
When evaluating the high prices of one-time gene therapy treatments, should we look to the costs of organ transplants when ...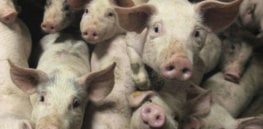 The pork industry is watching the potentially lucrative market that could be driven by a surge in demand for pigs ...