[July 8,] activists presented more than 36,000 signatures to the [Washington DC] Board of Elections. If the signatures hold up ...
There is a movement underway to reconsider how LSD and other psychedelic drugs are regulated. If restrictions were loosened, these ...
Psilocybin mushrooms, popularly known as magic mushrooms, are famous as psychedelic purveyors of trippy epiphanies and cathartic giggle fits. But ...
The practice of taking small, regular doses of psychedelic drugs to enhance mood, creativity, or productivity lacks robust scientific evidence ...
Today, with a net worth of roughly $400 million accrued through various enterprises, [German financier Christian] Angermayer is one of ...
Welcome to a murky new front in the war to bring psychedelics out of the shadows and into both legal ...
Hallucinogenic drugs, particularly lysergic acid diethylamide (LSD) and psilocybin, are classified as Schedule 1, but scientists and physicians believe they ...
The active ingredient that makes magic mushrooms so magic—the psychedelic drug psilocybin—is one step closer to becoming a legal treatment for ...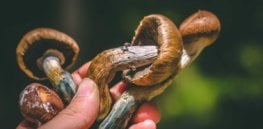 Microdosing involves taking roughly one-tenth the "trip" dose of a psychedelic drug, an amount too little to trigger hallucinations but ...
"One pill makes you larger, and one pill makes you small," sang Grace Slick in Jefferson Airplane's classic White Rabbit, conjuring ...