New data released by the United States Department of Agriculture (USDA) last week indicates that farmers in the U.S. continue to adopt genetically engineered corn, soy and cotton crops that are herbicide-tolerant, insect-resistant or a combination of both. Plantings of all biotech cotton reached 96 percent of cotton acreage, while plantings of all biotech soy reached 94 percent of soy acreage and plantings of all biotech corn reached 93 percent of corn acreage in 2014.
The new data is obtained by USDA's National Agricultural Statistics Service (NASS) in the June Agricultural Survey. The NASS conducts the June Agricultural Survey during the first two weeks of June and publishes their findings at the end of June. To collect information on genetically engineered crops, randomly selected farmers across the U.S. were asked if they planted biotech seed that was resistant to herbicides, insects or both.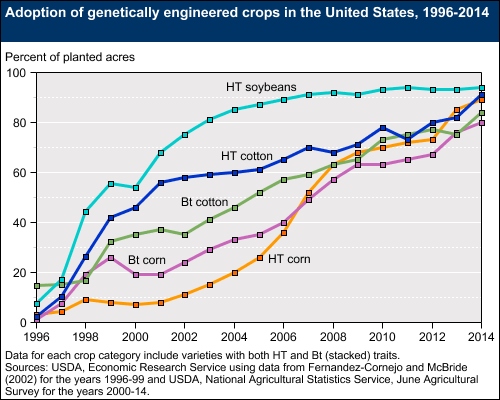 In particular, adoption of "stacked" varieties of corn and cotton has been accelerating in recent years. These "stacked" varieties are resistant to both herbicides and insects. No insect-resistant variety of soy has been developed as insects have not posed major problems for growing soy. "Stacked" cotton plantings reached 79 percent of cotton plantings while "stacked" corn plantings reached 76 percent of corn plantings in 2014.
Chart via USDA
Chart via USDA
Read the full, original article: Recent trends in GE adoption
Additional Resources: