Science suggests that crooked teeth, overbites, narrow jaws, and crimped nasal airways are a modern phenomenon. Skeletal remains show that just 300 years ago, humans commonly displayed straight, perfectly aligned teeth, wide jaws, flat palates and the large nasal passages that signal habitual, healthy breathing.
But more recently, our faces have begun to deform. Today, our skulls are marked by high, narrow palates, short lower jaws and, often, insufficient space. When children drop their baby teeth, there's typically inadequate room for the adult teeth, which leads to crowding and misaligned teeth. Worst of all, this anatomy encourages mouth-breathing, which can, in turn, lead to under-the-radar sleep difficulties and a whole array of problems ranging from behavioral challenges, anxiety, and depression to cognitive issues.
…
[Sleep specialist Stephen] Sheldon and some colleagues are writing a protocol for a prospective study of alternative orthodontia in young children. They need many institutions to be involved in order to capture data on enough children. Nighttime sleep studies cost a lot of money, raising the challenge. Sheldon is waiting for the publication of his retrospective study, describing results in 18 children. While the wheels of science slowly grind, parents scramble for guidance, acting as researchers, detectives, and advocates for their children.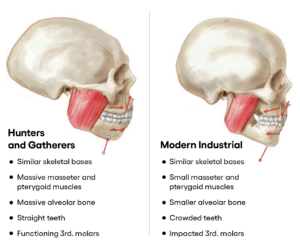 Read full, original post: Our Skulls Are Out-Evolving Us