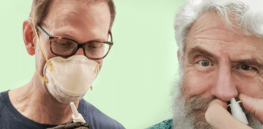 Nearly 200 covid-19 vaccines are in development, and some three dozen are at various stages of human testing. But in ...
Synthetic biology, or the application of engineering principles to the design of life, presents world-changing prospects. Could components of a ...
George Church made a passing comment about a genetic dating app his lab was developing that he said could wipe ...
Is it ethical to genetically engineer people? Leading geneticist George Church spends a lot of time thinking about the answer ...
The legendary synthetic biologist Dr. George Church and team at the Wyss Institute at Harvard University took a first step towards ...
Harvard synthetic biology pioneer George Church generated some buzz last year when he co-founded Rejuvenate Bio with the goal of ...
In "Hacking the Code of Life," Nessa Carey explores new technology offering the power to alter the genome with increasing ...
As the New York Times reported [July 31], [Jeffrey] Epstein's "passion for cutting-edge science" at times verged into eugenics. Multiple ...
Athletes getting an edge from a probiotic boost may be more realistic than once thought ...
Our ancestors were accustomed to spending their entire lives in walking distance of their birthplace, but our modern world is ...
[Editor's note: Harvard geneticist George Church has come to the defense of Chinese researcher He Jiankui, who shook up the science ...
A survey of people in the US and 10 European nations found opposition to some forms of gene editing for ...
The rule that cuts off research on human embryos at 14 days gestation is based on an arbitrary time limit ...
Is the Cambridge-based company Editas truly ready for the big time or is it trying to capitalize on technological hype? ...