An international team, including Arizona State University researcher Gary Schwartz, have unearthed the earliest known skull of Homo erectus, the ...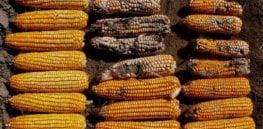 TELA maize products are transforming livelihoods at [the] household level in Matibidi village, Mpumalanga province in South Africa. Meet Mr ...
Babalwa Mtshawu never experienced puberty. When she was growing up she didn't get her period or grow breasts like the ...
South Africa's track federation will appeal against the recent Caster Semenya ruling, the country's sports ministry has confirmed. The government ...
In Masiphumelele, an informal settlement of tin shacks, squat brick buildings, and narrow lanes south of Cape Town, 23,000 people ...
South Africa is urging other African countries to learn from its latest strategy and adopt more holistic policies around biotechnology ...
Scientists around the world are increasingly turning to the promise of CRISPR gene editing to tackle any number of problems ...