An old myth has resurfaced that a GMO almost destroyed all life on Earth — but what's the real story? ...
On a Jan. 15 conference call, a leading scientist at the federal Centers for Disease Control and Prevention assured local ...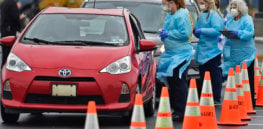 First, the bad news: America's coronavirus epidemic is only beginning, and the suffering will become more searing over the next ...
The available data shows that South Korea has done many more tests than other countries. This suggests that the number ...
The idea to use DNA testing to reunite families separated at US borders due to the Trump administration's "zero tolerance" ...
GMO critics claim that US regulations rely too much on the concept of "substantial equivalence" when evaluating if food is ...
Submitting a vial of spit to a genetic testing company is easy. Understanding the implications — and regulating the burgeoning ...
Two NGO commissioned studies found parts per billion concentrations of glyphosate in wine and oatmeal. Are these findings cause for ...
Today, personalized medicine hinges on genetic information on risks of disease. Unfortunately, having a disease-associated mutation may bear little to ...
Pesticides have been found in nearly half of organic fields. Is this a case of accidental drift, or fraud? ...
Major depression affects an estimated 10 percent of the population and often runs in families. Could a genetic test could ...