As demand for plant-based food like fake burgers heats up, biotech start-up Ginkgo Bioworks is launching a venture to bring scale to the rapidly growing industry….It's the success of Impossible Foods that drove Ginkgo to begin planning Motif Ingredients in mid-2017, according to Ginkgo co-founder and CEO Jason Kelly.
…
U.S. retail sales of plant-based foods that replace animal products grew by 17 percent to $3.7 billion in 2018, according to data from Nielsen and the Good Food Institute.
…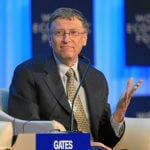 Motif Ingredients attracted some high-profile investors to a $90 million Series A funding round announced [February 26]. The Bill Gates-led investing entity Breakthrough Energy Ventures — which includes among its roster of billionaire backers Jeff Bezos, Michael Bloomberg [and] Richard Branson….was in on the venture round.
…
"Raising meat takes a great deal of land and water and has a substantial environmental impact," Gates wrote on his personal blog, Gatesnotes.com, a few years ago. "Put simply, there's no way to produce enough meat for 9 billion people. Yet we can't ask everyone to become vegetarians. That's why we need more options for producing meat without depleting our resources."
Read full, original article: Ginkgo Bioworks joins hunt for next Impossible Burger with billionaire investors, including Gates, Bezos and Bloomberg