The Environmental Working Group (EWG) was founded in 1992 as a 'think tank' promoting original research and pushing back against corporations engaged in everything from sunscreens to cosmetics to drinking water to plastics to food production. It is well-known as a promoter of organic products (specifically "pesticide-free" and "GMO-free." Its annual budget exceeds $8 million. EWG also oversees Organic Voices Action Fund, which is a political lobbying (c)(4) organization that is 100% funded by the organic industry.
EWG has been called the "Environmental Worrying Group" by watchdog group the Center for Organization Research & Education. [1] Seventy-nine percent of members of the Society of Toxicology who rated the group say that the EWG overstates the health risk of chemicals. Quackwatch describes EWG as one of "[t]he key groups that have wrong things to say about cosmetic products".
EWG reviews chemicals, judging many of them to be harmful, but does not assess critical factors such as length of exposure or dosage. Its list of 'scary' chemicals include: arsenic, asbestos, BPA, chromium-6. dioxin, fire retardants, lead, mercury, nanoparticles, nonstick materials, perchlorate, phthalates, triclosan, and 2,4-D, and pesticides (neonicotioids, dicamba and especially the weedkiller glyphosate).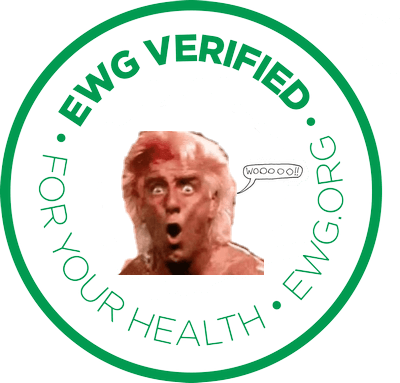 Its style is confrontational marked by a liberal use of scare tactics. For example, in 2019, EWG issued a news release that claimed, "Major food companies like General Mills continue to sell popular children's breakfast cereals and other foods contaminated with troubling levels of glyphosate, the cancer-causing ingredient in the herbicide Roundup." EWG's announcement was the third of its kind focusing on the alleged dangers of trace residues of glyphosate in our food.
The controversial weedkiller has been reviewed by 18 of the world's top global regulatory agencies, none of which found that residues of glyphosate in food pose any danger to human health. Yet its scientifically bogus claim was immediately trumpeted by fringe activist groups. It was also covered, almost entirely uncritically, by mainstream sources, such as CNN, which headlined its article, "Many breakfast cereals still contaminated by weed killer, environmental group says."
EWG has become best known for its signature annual "Dirty Dozen" report criticizing what it calls "hidden" pesticides in foods; it is well publicized by the media and many non-experts embrace its findings as credible. Its bottom-line advice is that consumers should buy organic products, which it claims do not use pesticides (which is not accurate, as organic crops are frequently treated with natural and some synthetic chemicals, some of which are toxic to beneficial insects and animals). Critics of the Dirty Dozen list have suggested that it significantly overstates the risk to consumers of the listed items, and that the methodology employed in constructing the list "lacks scientific credibility."
A critical article in 2016 in Slate concluded:
In their Dirty Dozen list, the EWG publicizes what they call "dirty" pesticide residues on fruits and vegetables without mentioning that what they describe as "dirty" pesticide residue levels are actually safe because they're well below "tolerance" levels set by the EPA. In their most recent sunscreen guide, the EWG warns consumers to avoid sunscreens containing oxybenzone and retinyl palmitate, but the U.S. Skin Cancer Foundation and many toxicologists disagree. The EWG recommends that consumers avoid GMOs despite the scientific consensus on their safety. Their warnings about formaldehyde in baby products got Johnson & Johnson to remove a preservative from their baby shampoo formulation, even though the amount of formaldehyde was miniscule and not associated with any elevated cancer risk.
EWG has been criticized for its many conflicts of interest, with numerous financial ties to the products and industries it evaluates. Examples on its board include: Mark Hyman is a Director who uses the EWG sunscreen guide to recommend Vitamin D supplements that he sells through his online store; Director Christine Gardner is a brand ambassador for Beautycounter, also one of EWG's corporate partners and prospective licensee in the EWG Verified program; and Director Meg Cadoux Hirshberg is wife of Gary Hirshberg, founder of Stonyfield Organic and the anti-GMO lobbying group Just Label It. The EWG also gives its best score to and sells sunscreens from the Honest Company.
EWG has a history of promoting the false claim the routine vaccines are dangerous. In 2004, it published the paper "Overloaded? New Science, new insights about mercury and autism in children." The paper claimed that there are "serious concerns about the studies that have allegedly proven the safety of mercury in vaccines" and stoked fears that childhood vaccines like those for measles, mumps and rubella are responsible for increased incidences of autism. In 2008, it promoted an article hyping a court filing claiming, falsely, that  "childhood vaccines contributed to a young girl developing a brain disorder with features of autism spectrum disorder.
Its latest campaign focuses on the alleged dangers of PFAS, claiming it decreases the effectiveness of COVID-19 vaccines for which it has offered tepid support. EWG misleadingly claims that a growing body of scientific research "links" elevated PFAS exposure with immune system harm and decreased response to vaccines, including studies showing a weaker response to tetanus and diphtheria vaccinations in infants and influenza vaccines for adults. It's a version of the theory of endocrine disrupting chemicals (EDCs) has been challenged by many mainstream scientists who consider the theory speculative science.
HISTORY
According to their IRS charitable organization tax filings, "The Environmental Working Group (EWG), founded in 1993, fills a niche in the environmental community by focusing its unique strategy on toxics, agriculture and western lands issues. Our effective advocacy efforts are bolstered by extensive web databases and a 500,000-person email list, which have become major forces in online information distribution. EWG is a national organization with headquarters in Washington, DC, and offices in Oakland, CA and Ames, Iowa." In potential violation of its 501c3 status, EWG actively engages in lobbying with government entities, particularly in Washington, DC.
ORGANIZATION
Environmental Working Group
Washington, DC office: 1436 U Street, NW, Suite 100, Washington, DC 20009

Website: www.ewg.org
EIN: 52-2148600
Phone: (202) 667-6982 Facsimile: (202) 232-2592
Reported revenues/ expenditures in 2012: $7.4 million/ $7.3 million.
Contact: Ms. Scott Mallan [email protected], VP Finance
Voting board members: 15 (2012)
Employees: 66 paid (2012); 16 volunteers (2012)

Ruling Year: 1999
EWG ACTION FUND
1436 U St Nw Ste 101, Washington, DC 20009
EIN: 02-0612599
Phone: 202-667-6982
Ruling Year: 2003
Revenue/Expenditures 2012: $164,000/ $146,000 2013: $90,000/ $88,000
Voting board members: 3
Paid employees: 10 volunteers 3 (all shared staff with EWG, EWG Action Fund notes it has no paid employees of its own)
The EWG Action fund notes "Water and agriculture" and "Toxics and Human Health" as key priority areas.
PEOPLE
Ken Cook, President (paid $250,000 2012 and tax returns note he was granted first class travel allowance through 2013.
Heather White, Executive Director/Chief of staff (paid $225,000 2012)
Scott Mallan, VP Finance (paid $160,000 2012)
Scott Faber, SVP and executive director/campaign manager of Just Label It. A native of Massachusetts he holds a J.D. Form Georgetown Law. Was prior VP for federal affairs at Grocery Manufacturers Association and farm policy campaign manager for the Environmental Defense Fund. From 1993-2000 he was senior director for public policy for American Rivers. (paid $210,000 2012)
Craig Cox, SVP agriculture (paid $185,000 2012)
Chris Campbell, VP IT (paid $165,000 2012)
Alexander Formuzis, VP Communications (paid $165,000 2012)
Bill Allayaud, Director Government Affairs California (paid $135,000 2012)
Nils Bruzelius, Executive Editor & VP Publications (paid $140,000 2012)
Elain Shannon, Editor in Chief (paid $140,000 2012)
Renee Sharp, VP Research (paid $130,000 2012)
Mike Casey, consultant (Tiger Comms)
Aman Anderson, web designer
Dave Andrews, senior scientist
Jocelyn Babuscio, vice president of development and online engagement
Katherine Baird, executive assistant to Ken Cook
Melanie Benish, Stabile law fellow
Emily Cassidy, biofuels research analyst
Dean Clark, web developer
Thomas Cluderay, general counsel
Julia Cohen, senior director of external engagement
Johanna Congleton, senior scientist
Cailey Doran, email marketing associate
Brett Dorow, human resources
Steven Drace, director of private sector engagement
Libby Foley, policy analyst
Christina Frenzel, digital media manager
Samara Geller, database analyst
Colleen Hutchings, senior director of online fundraising and engagement
Emily Ion Kosuge, director of strategic partnerships
Mary Ellen Kustin, senior policy analyst
Mike Lavender, policy analyst
Brett Lorenzen, coordinator, Mississippi River Project
Helen Lucey, special assistant to the executive director
Sonya Lunder, senior research analyst
Nneka Leiba, deputy director of research
Aya Matsumoto, development assistant
Ashley McCormack, manager, partnerships and outreach
Rachel Niemerski, policy associate
Nicole Oliver, foundation coordinator
Katie Peacor, web designer
Sean Perrone-Gray, senior analyst
Paul Pestano, analyst
Jason Rano, director of government affairs
Soren Rundquist, landscape and remote sensing analyst
Sara Sciammacco, vice president of communications
Tina Sigurdson, staff attorney
Kathryn Ulerich, bookkeeper
Ty Yalniz, web designer
Board members:
Carol McDonnell, chair
Ami Aronson
David Baker
Jennifer Caldwell
Ken Cook
Rob Fetherstonhaugh
Christine Gardner
Melissa Hughes
Dr. Mark Hyman
Dr. Harvey Karp
Nina Montee Karp
C. J. Kettler
Nina Montée Karp
Elise Museles
Randy Paynter
Drummond Pike
William G. Ross, Jr.
Kim Rozenfeld
Serena Torrey Roosevelt
Laura Turner Seydel
Francesca Vietor
EWG Action Fund board
Robyn O'Brien, chair
Steve Damato, treasurer
Heather White, secretary (Paid by EWG, not action fund)
CAMPAIGNS / ACTIVITIES
Ag Biotech Advocacy Category: Secondary
Key personnel: Ken Cook, Craig Cox, Drummond Pike, Mike Casey
2008 revenue/expenses: $3,489,108/ $5,061,058
2013 revenue expenses: $7.8M/ $7.8M
Primary income sources: Foundations, Contributions (individuals, corporate), Endowment
501c3
In 2012 EWG paid DC lobbyists Mehlman, Vogel, Castagnetti $105,000 and DC political consultants Anne Lewis Strategies LLC $90,4000.
Anti-GMO
The Environmental Working Group (EWG) has expressed concern about the safety of GMOs both at the dinner table and in the fields. Scott Faber, EWG's vice president of government affairs has argued that it's wrong to frame the debate around the technology of genetic modification. To him the debate should be about what consumers are entitled to know, broadly, about their food.[2]
EWG runs the Just Label It campaign led by Scott Faber out of the EWG Washington offices funded by organic industry marketing partners.
EWG has been at the forefront on efforts to enact a law that will require mandatory labeling of food with GMOs. It has lobbied both local and the federal government to enact laws to this effect. In September 2014, it released a scathing report[3] that attacked the anti-label movement, which included food and biotechnology companies. The report claimed that these groups spent a whopping $27.5 million in 2013 to fight off efforts to enact labeling laws.
One example: "Commodity crop corn used for animal feed and biofuels is almost all produced with genetically modified (GMO) seeds, as is some sweet corn sold for human consumption. Since GMO sweet corn is not labeled as such in US stores, EWG advises those who have concerns about GMOs to buy organic sweet corn." EWG enjoys strong reputational capital among news organizations and on Capitol Hill. They are an infrequent creator of content or campaigns which solely focus on agricultural biotechnology; while they frequently include "GMO" references in other campaign activities.
Clean Water
EWG has initiated campaigns targeting agriculture as a major source of alleged pollution of waterways and groundwater.
FUNDING SOURCES
EWG runs the Just Label It campaign funded by the organic and natural product industry, which provides a major portion of the EWG budget.
AFFILIATIONS
Just Label It Campaign – organic industry lobbying initiative housed at EWG
CRITICISMS
The Center For Consumer Freedom takes EWG to task for food-related 'scaremongering' http://www.consumerfreedom.com/2013/10/5-things-you-didnt-know-about-the-environmental-working-group/
Resources
Environmental Working Group Facebook page
Environmental Working Group on Twitter
References