Glioblastoma is an aggressive, killer disease. While victims of this fast-moving brain tumor comprise only about 15% of all people ...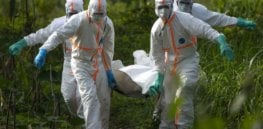 Glioblastomas, in particular, are relentless and hard to treat. And while the world has its attention fixated on coronavirus, researchers ...
New research has revealed that the Zika virus breaks into brain cells by using a special molecular key, and scientists ...
If arranging cells in a particular formation was a good way to build cancer models that mimic what's going on ...
An inducible, tumor-localized gene therapy has been tested for the first time in glioblastoma patients. The two-part approach, which involves ...
The most common form of malignant brain cancer—called a glioblastoma—is notoriously wily and considered the deadliest human cancer. … [R]esearchers ...
[Adam and Whitney Hayden] waited to find out if today was the day they would learn that the cancer had ...
Sen. John McCain withstood beatings and torture as a prisoner of war, but he was confronted with an enemy in ...
Patients with glioblastoma, a malignant tumor in the brain or spinal cord, typically live no more than five years after ...
The idea of using a modified poliovirus as a treatment for glioblastoma brain cancer isn't new. But recent research shows ...
With traditional cancer-fighting tools--surgery, radiation and chemotherapy--proving ineffective against glioblastoma tumors, researchers are exploring an unconventional treatment using a weakened ...
The blood-brain barrier serves as a major obstacle for treating brain cancers, but several groups are having success forcing the ...