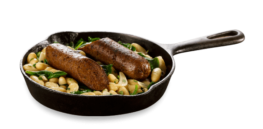 Turtle Island Foods, doing business as The Tofurky Company ("Tofurky") which produces plant-based products, together with The Good Food Institute ...
New disclosure requirements finalized by USDA for biotech foods will mandate the use of the term "bioengineered" while providing a key exemption for ...
Elanco's Colleen Parr Dekker: Product differentiation and marketing—not transparency and education—are why food companies adopt trendy labels ...
Editor's note: This article is part one of a three-part series by Marc Brazeau on his 2018 predictions on food, ...
A new generation of GMOs may call for new ways of regulation. And the activists, manufacturers, and farmers may want ...
I've become an accidental activist on behalf of GMOs, in part because of misleading fear based marketing campaigns by food ...
While the Agricultural Department edges towards embracing a new food label, it's missing the opportunity to provide a meaningful 21st ...
Glass house alert: Stonyfield's yogurts are filled with unknown and unlabeled chemicals. Shouldn't you "just label it", Gary? ...