Dr Kat Arney explores the life and complex legacy of JBS Haldane, whose work, writing and dominant personality made him ...
In 1968, at the height of the last great influenza pandemic, at least a million people worldwide died, including 100,000 ...
What does an antivaxxer and a far-right activist have in common? If the thought of someone who opposes vaccines brings ...
President Donald Trump has brushed off the coronavirus surge by emphasizing the lower death rate, saying that "99 percent of ...
Bemoaning uneven individual and state compliance with public health recommendations, top U.S. COVID-19 adviser Anthony Fauci recently blamed the country's ...
The critical questions the Stanford professor is raising about Covid-19 have gotten lost amid partisan bickering ...
As Africa shows, locust plagues can be devastating for food security, and climate science enables us to detect that certain ...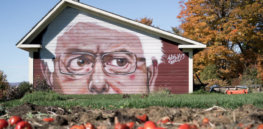 This week's opening round of debates threatens to fall shockingly short on science ...
My husband and I manage a farm in Rhineland-Palatinate [in Germany] with agriculture and livestock. Agriculture thinks in generations, so we, ...
Agroecology isn't rocket science So wrote Daniel Moss, head of the AgroEcology Fund, and Mark Bittman, former food columnist, in ...
The Austrian research portal "Addendum" released a bombshell video regarding the facts, figures, and positions regarding GMO foods. In this ...
Glyphosate is one of the most hotly-debated herbicides of the modern era. Many of the arguments against the popular weed-killer ...
GMO opponents and climate change deniers often share a common characteristic -- their actions and decisions are driven by the ...
Do our genetics influence whether we lean to the political left or right? It's obviously more complicated than that, but ...
A new Pew survey found that acceptance of use of GMOs crops and pesticides depended far more on education and ...