For anyone who's ever worked in a large organization, this kind of message will be depressingly familiar: "Do you have ...
[R]esearchers have looked at the language development of preterm children – both those born three weeks early and those born ...
Some scientists have theorized that it only became physically possible to speak a wide range of essential vowel sounds when ...
One [area of the brain is called] the "hand knob," which, as the name suggests, is a knobby region of ...
The more words autistic children hear as infants — and the more verbal interactions they have with their caregivers — ...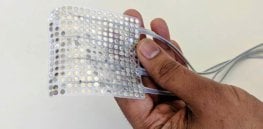 With a radical new approach, doctors have found a way to extract a person's speech directly from their brain.  The ...
In an effort to provide a voice for people who can't speak, neuroscientists have designed a device that can transform ...
[Neurosurgeon Ashesh Mehta] was operating on [an] epilepsy patient to determine the source of seizures. But the patient agreed to ...
Prior to developing the capacity for speech, toddlers communicate their desires, demands, and discontent using a diverse repertoire of physical ...
Compared to humans, most primates produce a limited range of vocalizations: At one end of the spectrum, there's the Calabar angwantibo, ...